Who is an Orthodontist?
Specialists in Orthodontics have completed an additional minimum of 3 years higher training and examinations after completing dental school. Unlike general dentists who offer some orthodontic treatments they work exclusively in the area of orthodontics, assessing and managing problems in the developing dentition to achieve the best long term dental appearance and occlusion. Since completing Specialist training, Ciara has completed further training courses and higher examinations in clinical orthodontics.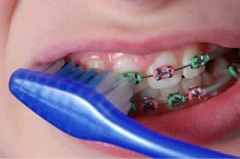 What is Orthodontics?
Orthodontics is the diagnosis, prevention and treatment of dental and facial irregularities. Orthodontic treatment involves wearing fixed or removable appliances and aims to correct the bite, the smile and the balance of the face.
Orthodontics can be of benefit to people of all ages, from intercepting potential problems as the dentition develops in children to treating adults who have never been happy with their smile. Orthodontics, combined with excellent oral hygiene and good habits is the most natural way of creating a beautiful smile.
Ciara is committed to achieving high quality outcomes for her patients and provide a friendly service for patients, parents and their general practitioners. Ciara's treatment philosophy is to provide well timed effective and efficient treatment and to support and empower patients and parents to create and maintain a healthy smile for life.
What does treatment involve?
Your 1st Visit
At the first visit the orthodontist will find out more about your exact concerns and then examine your face, mouth and teeth. No actually orthodontic treatment will be carried out at this visit. We will take digital photographs so that we can discuss how you may benefit from orthodontic treatment and arrange to take radiographs and study casts of your teeth to plan your treatment in detail. For some patients, especially those with missing teeth, there is a benefit for the orthodontist to plan treatment with the Oral Surgeon or Prosthodontist to achieve the best long term outcome.
What age should my child start treatment?
Some cases are most ideally treated as the child is growing and the dentition is developing, but other types of orthodontic problem can be treated at any age.
Most orthodontic problems can be treated effectively from the age of 11, but if your child has front teeth that have failed to erupt or a very poor bite, they may benefit from attending for an orthodontic assessment before this.
How long does treatment take?
Treatment for some orthodontic problems can take as little as 6-12months. Comprehensive orthodontic treatment usually takes 18-24 months, depending on the type of appliance and the orthodontic problem. Other types of treatment can be longer, or in 2 phases, especially if treatment starts in very young children.
Excellent results from orthodontic treatment depend on you as well as us! Treatment duration and the quality of the result relies on excellent appliance wear, regular attendance, good oral hygiene and patient cooperation.
Types of Appliance
Fixed Appliances
Fixed braces or train tracks are the standard mode of treatment as they offer the most control to the Orthodontist to achieve the most ideal result. Dr Scott uses Empower brackets as standard which use the latest technology in self ligating appliance systems to give fast and efficient tooth movement with brackets that are easy to clean.
Aesthetic Appliances
Tooth coloured Innovation C brackets offer patients all the benefits of fixed appliance technology with excellent aesthetics for patients who are concerned about wearing conventional appliances.
Removable Braces
These braces are often used in younger children to intercept and improve an orthodontic problem as the teeth and jaws are developing. Some types of orthodontic problems are best treated as the teeth are developing, before all the adult teeth have erupted and these appliances can help the teeth to improve as they are coming through and prevent a more complex orthodontic problem arising. Often there is a second phase of treatment once the rest of the teeth erupt.
If you are interested in finding out more about orthodontic treatment for your child, you can contact us directly to make an appointment or you can ask your dentist to refer you. During your consultation, we can find out more about your concerns and give you more information about the type of treatment they may benefit from.
An initial consultation costs €150 and this is deducted from the cost of treatment if you decide to proceed. We have easy payment plan options for treatment and may also be entitled to tax relief on the cost of your treatment so ask about this.
Treatment Costs:
The standard cost of orthodontic treatment is €4250. This includes the initial consultation, diagnostic records and treatment planning, upper and lower fixed appliances, retainers and a year of follow up after the active treatment is completed. Other treatments may be more or less expensive than this, depending on the complexity of the case and the type of appliance.
Fixed Appliances:  €3000- €5000 (Aesthetic Appliances: €300 supplement per arch)
Removable Appliances: from €1000-€2500