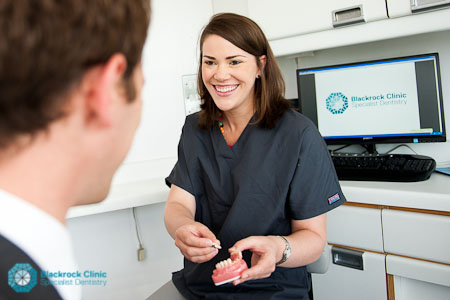 Why Dental Implants?
A natural confident smile is one of the most attractive features anyone can possess. Sadly, many people find when they lose their teeth and wear a denture, that it can severely affect their appearance, self-confidence, self-esteem and quality of life as well as their ability to manage a varied and nutritious diet. Whether you have lost one tooth, several teeth or all of your teeth dental implants offer you the possibility of eliminating a denture and providing you with fixed teeth replacements (not removable by you).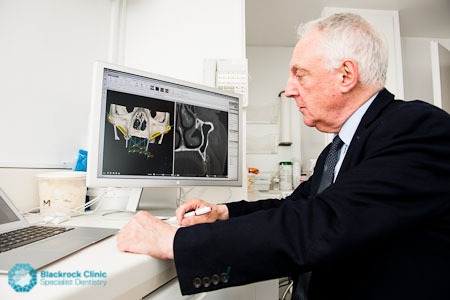 What are Dental Implants?
Dental implants are titanium screws with specially treated surfaces. They are placed into your jaw bone (implanted) using a gentle surgical technique. When correctly carried out, your own bone will bond to the surface of the implant – a process called osseointegration. Implants can be considered as artificial roots of teeth and can be used to support replacement teeth such as crowns, bridgework or dentures.
Is everyone suitable for implants?
Although most people who have missing teeth are suitable there must be sufficient jawbone and gum tissues remaining to allow implants to be placed. Sometimes extra or more advanced procedures are required to promote a successful outcome. There are very few medical contraindications to implant treatment but there are some. These will always be investigated thoroughly.
Am I too old to have implants?
Remarkably no, providing you enjoy reasonable health! Our oldest patient had full his upper and lower dentures replaced with implants at age 90.
I have lost all my teeth many years ago. Can I still have implants?
Yes. In this situation they can do away with the need to wear ordinary removable dentures. Implants also provide the necessary anchorage for fixed, secure replacement teeth. A further advantage is that long term studies show that they prevent the loss of bone and gum tissue that occurs over time when wearing full dentures. Such shrinkage is progressive and irreversible and accounts for the sunken facial features that are a characteristic of long term denture wearers. Because of the secure implant anchorage, the replacement teeth can be used to help restore lost facial contours.
How long does treatment take before I have replacement teeth?
This can vary from many months to as little as 1 hour. Much depends on the outcome of the thorough appraisal that will be carried out and this sometimes requires the use of specialised dental scans. When all teeth have been lost, or are about to be lost, we can often carry out the placement of implants and fitting of teeth in the same day.
Why Choose Blackrock Clinic Specialist Dentistry?
Our Experience
Blackrock Clinic Specialist Dentistry has been a leading innovator in the field of implant dentistry for thirty years and is both nationally and internationally recognised in the field. Many of our patients are happily functioning with implants placed thirty years ago. We were the first private clinic in the UK or Ireland to place osseointegrated implants in conjunction with Professor P I Branemark from Sweden- the founder of modern dental implants. We have provided postgraduate training at our clinic to doctors from over 30 countries. We introduced the Same Day Teeth concept in 1999. Our specialist team led by Professor David Harris continues to build on this legacy by offering you our experience and guidance in order to provide the best care for you.
Our Team
All doctors on our team have completed approved specialist training programmes and more. All hold university academic training posts and are involved in teaching and research.
Our philosophy
We are committed to providing you with the highest standard of specialist dental care that is carefully crafted to meet your specific wishes and needs. We always listen carefully to you and only then guide you as to your best treatment options. We do not indulge in selling techniques and the considered advice we will give to you is the same as that we would provide to a close family member. You will never be pressurised into having treatment and, should you wish, you will have an opportunity to speak directly to other patients who have undergone similar treatment.
The Clinic
All treatment will be carried out within the safe and secure environment of the Blackrock Clinic with full medical backup and a full range of diagnostic investigations, including CT Scans, are available on site.
We are aware that treatment cost is an issue for all of our patients. We will always seek to provide a competitive pricing structure that offers real value without compromising on the highest standards of care. Every patients needs are different. Following a thorough examination and assessment your treatment options, together with the cost, will be discussed in detail with you prior to starting any treatment.
Dental Implants Topics: